Gain a new perspective on your corporate questions.
I've always believed in the power of words. The powerful speech given in the changing room, the words exchanged between teammates in the heat of the game, the discussion with your coaches after the battle.
Words are said to trigger reactions in those who listen to them. This is what I intent on doing through those seminars. Twenty years of rugby taught me many lessons: the struggles you face and the solutions you find, the inspiration you're looking for and the performances you build.
Through my interventions, I will share those stories to your audience and seek to inspire a refreshed approach on their daily routines.
Trigger a new sensitivity around your values.
Businesses need powerful collective beliefs, just as a successful rugby team is built upon shared values. I trust that together we can make these values resonate in the business world as much as in the sporting world. By communicating a distinct message to your team, you will reinforce team spirit and wellbeing among them. And after all, aren't they the key to a collective performance?
I spent most of my career in France and have now been living in the UK since 2012, which allows me to deliver either in French or English and to adapt to a wide range of corporate clients. Whether you follow rugby or not, the stories supplied will echo to the audience by their simplicity and authenticity.
From 45min to 2h conference.
Format flexible depending on the size of the audience, no limit on numbers.
Available for training programmes, seminars, annual galas evenings, business dinners …
We're based in London, UK and we are available Monday to Friday. Once you've sent your enquiry, a member of the team will get back to you within 48h.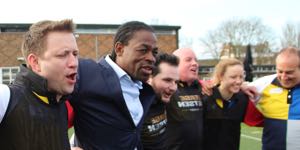 A team is about people, whether you do project management for a railway company or run a business unit for a pharmaceutical brand. My point is to make you rediscover this human factor within your collective and show you how as an individual you are contributing to the common effort.Together we can build a new sense of togetherness by putting the human first.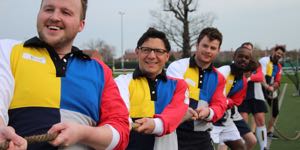 Ever heard of achieving the impossible? And felt doubtful as to how you were meant to get there? So have I but out of those moments came out great successes and some of the proudest moments of my career. Through the many stories I've lived, I've learned how to grow as a person and create a positive loop so that motivation never leaves my side. Learn alongside me how to grow your inner strength so it now is your time to shine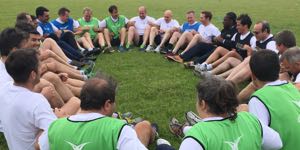 Champions do not only exist on the rugby pitch; they are those incredible individuals who keep fighting failures after failures to thrive to the highest level. From the rugby pitch to the corporate world, take on this journey with me and gain a new perspective on how you can turn adversity into opportunity.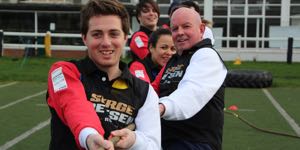 Achieve everything and all the time. What a challenge that is and yet it is what is expected from us on a daily basis. Understand how to be at 100% of your abilities and once you're here, repeat it. This is what I can bring you thanks to the 20 years I've spent searching for that ideal. I want you and your team to be better than average, by balancing workload and efficiency in your daily routine so you can become overachievers.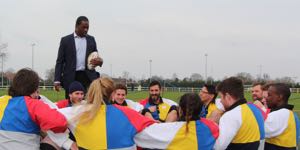 An athlete is a delicate combination of bones, muscles and spirit. I had to accept that I was not only made out of the obvious and that my quest for well-being had to look at every aspect of who I am. I want to guide you on how to invest in your mental and physical health: they are at the heart of your future success. As an individual or as a collective, managing your energy is the key on how you achieve more, in a more sustainable way.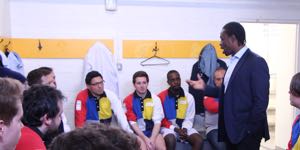 What do we need from our leaders? And how can we become a leader ourselves? Drawing from my experience, it is all about understanding your purpose and everyone's around you. Together we could share to your team a clear vision of where you want to go, how you will get there but most of all, why it is going to be better this way.
How far can you travel for as a speaker?
I'm more than happy to travel anywhere, from the UK to Europe, even worldwide. Expenses for travel will be added for anywhere beyond the Greater London area.
What is the difference between your Speaker and Workshop services?
The Workshop seeks to engage with the individuals through diverse activities during the day. With my Speaker service, the aim is to inspire the whole audience. I want to trigger a new sensitivity towards the topics approached without the necessity to interact on a face to face basis with every individual.
Do you deliver in English or in French?
Both options are possible, my interventions are 50/50 between French or English. All supports used, including videos will be adapted to your choice and the preferred language of the audience.
I have a quite specific topic I want to talk about, how do you take that on board?
I am here to solve whatever problem you are facing, so I always take the time to arrange several meetings before the intervention so we can tailor my intervention to your questions. I then put together a proposal together, so you get plenty of time to adjust the final delivery to your exact needs.
When can I have an input on what you will be presenting?
From the content or design of the presentation to the speech on the day, you can ask for a preview at any time of the process. Follow up meetings can be scheduled if you wish to be more involved in the creation of the intervention.
How long in advance should I contact you for such an intervention?
Ideally, to give your project the amount of preparation it deserves, we would need a one month notice.
Want to start your unique experience alongside Serge Betsen?
Use our online form to get in touch and explain your project so we can get things started.
We're based in London, UK and we are available Monday to Friday. Once you've sent your enquiry, a member of the team will get back to you within 48h.